Alberto Puig has been named the new team manager of the works Honda MotoGP programme.
As predicted by Autosport, Puig, 50, takes over the role from Livio Suppo, who announced his departure from Honda last November.
Puig (pictured above left) will report to HRC race operations manager Tetsuhiro Kuwata, and will combine his new role with his existing positions as head of the Asian and British Talent Cup series.
"I'm very grateful to HRC for this opportunity they have given me with the Repsol Honda Team," said Puig.
"To have the chance to be in this position in one of the most successful teams in the MotoGP championship is a very big honour for me, so I can only focus on giving my best back to Honda and on trying to help them to achieve their goals.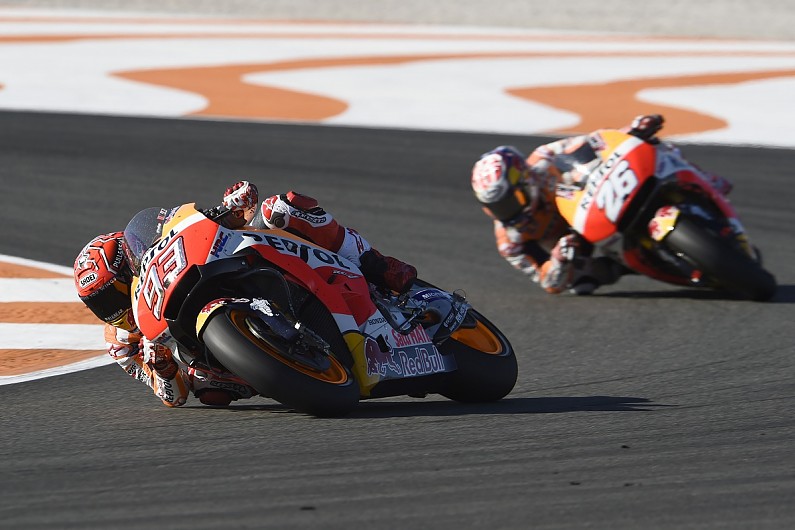 "I'm sure our riders will be ready when the time comes, and we as a team will also be ready to once again fight for the title, with humility but also with great determination."
Puig was a race winner in 500cc, taking a sole victory at Jerez in 1995, and since ending his grand prix career after the '97 season has played an active role in rider development.
He was responsible for launching the careers of Casey Stoner, Toni Elias and most notably Dani Pedrosa, for whom he acted as manager until 2013.
Like that of reigning champion Marc Marquez, Pedrosa's contract with Honda is up for renewal at the end of 2018.
Pedrosa will continue his collaboration with rider coach Sete Gibernau this year, having parted ways with the Wasserman management group.