Andrea Dovizioso believes Ducati team-mate Jorge Lorenzo tried to block him at all costs during MotoGP's Jerez race, which ultimately cost the Italian a chance to fight for the win.
Lorenzo and Dovizioso were running second and third in the middle stages of the race and the duo consistently lost time to leader Marc Marquez, whose lead went from half a second to 2.2s in four laps.
While both riders failed to finish the race due to a three-bike crash that also involved Dani Pedrosa, Dovizioso said his chance for victory was already over behind Lorenzo.
He said that Lorenzo "didn't want to let me past" and "slowed down to close the door".
When asked if he thought he could catch Marquez late in the race, he said: "No, no, no. At that time it was too late. I lost too much behind Jorge.
"He was fast, but he was too slow in the middle of the corner, he was struggling too much with the front. I think he also didn't want to let me past, and he stopped too much in the middle of the corner.
"That's why we lost the time with Marc because he [Lorenzo] was struggling and he slowed down to close the door.
"And that's why I took 10 laps, to try to overtake him. Because I didn't want to make a mistake.
"If I was behind Marc when he tried to push, maybe I had a chance to follow him. Maybe."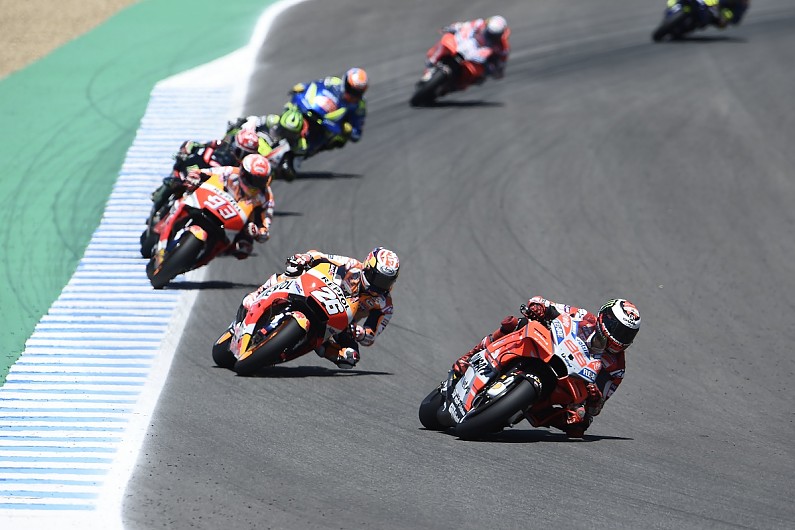 But Lorenzo, who took the lead off the line and was first for eight laps and the only rider in the field to run with a soft front tyre, said he was on the limit when Marquez pulled away.
He said he was "very satisfied" to run so high up despite having "no pace".
"I was very happy because I was really convinced, really determined from the start.
"I overtook three riders at the first braking point," he said.
"I was braking really hard with this bike, maybe even harder than with the Yamaha.
"In that aspect I was very satisfied with my race, because I didn't have the pace but even like that I was leading the race for eight laps and going really quick.
"All weekend I didn't have the pace, the thing is that I make things [happen] that other riders with my pace cannot.
"That is to my merit because with no pace I can lead the race and another rider can't do that.
"It's my lucky thing, my talent, let's say, in the last years.
"But I need more pace, I need to be quicker. If instead of 39.2-39.3 seconds I was 38.9-38.8 seconds away, they couldn't catch me."