Tech3 team boss Herve Poncharal says the factory KTM squad's line-up of Brad Binder and Miguel Oliveira for the 2021 season is MotoGP's "dream team".
With Pol Espargaro departing KTM for Honda at the end of the current campaign, the Austrian marque has promoted Oliveira from Tech3 to join Binder to spearhead its efforts in the factory team for next season.
Former Moto2 and Moto3 stablemates, Oliveira and Binder were meant to partner each other at Tech3 in 2020, before the latter was drafted in to replace Johann Zarco after Oliveira turned down the factory offer.
Both are now MotoGP's newest race winners, with Binder taking KTM's first win last month at the Czech Grand Prix, while Oliveira snatched Tech3's maiden victory at the last corner of a thrilling Styrian GP.
PLUS: Why Oliveira was right to pass on 2020 works KTM ride
Speaking exclusively to Autosport, Tech3 boss Poncharal believes this line-up is the best of the lot next year and believes KTM is "so lucky" to have secured both of them for its works outfit.
"[Oliveira] with Brad Binder, for me this is the dream team," Poncharal enthused.
"Brad Binder and Miguel Oliveira, they were supposed to be my riders this year, but the whole story of Zarco leaving, blah, blah, blah, it didn't happen.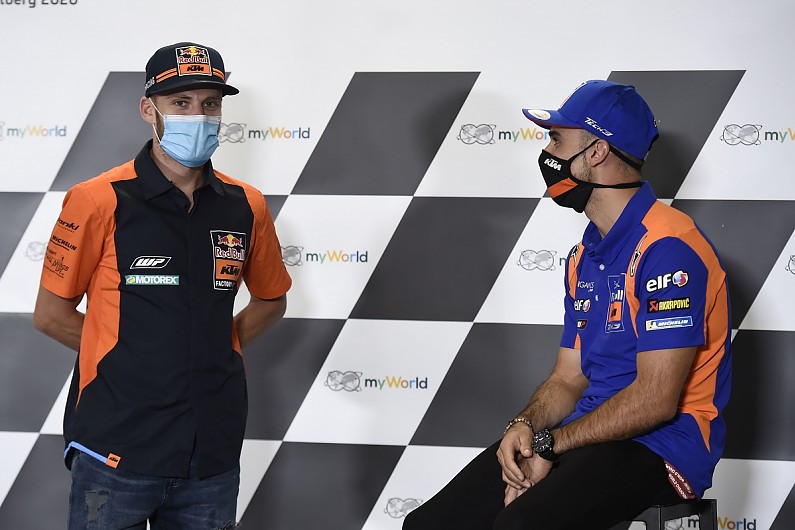 "But these two guys, I followed them in Moto3, I followed them in Moto2 and I was always telling Aki [Ajo] 'you're a lucky guy Aki because you have the dream team'.
"And now to think that both of them will be reunited next year in the factory KTM team, I told the KTM guys 'you are so lucky because you have two incredibly fast rider, two incredibly nice people and with unbelievable potential'.
"They like each other, but of course they push each other, they want to beat each other and this will be fantastic."
Q&A: How boredom led to Tech3's winning KTM adventure
Binder currently sits fourth in the standings and just 21 points off of championship leader Fabio Quartararo, though is refusing to consider himself a title contender.
The wins for Oliveira and Binder this year mean KTM loses its concession benefits for the 2021 season, with a ban on testing with race riders coming into immediate effect.
KTM will now be able to unfreeze its engine and develop it ahead of it being homologated for the start of 2021 and the ban on in-season engine development for non-concession manufacturers comes into effect.
However, this has caused a stir amongst several rival factories, who believe KTM will be able to build a "super engine" while the rest of the non-concession manufacturers (Honda, Yamaha, Suzuki, Ducati) must continue with their current ones as was agreed pre-season to keep costs down amidst the COVID-19 pandemic.