Upgrade for free today
You have only 5 articles remaining to view this month.
Casey Stoner says he "expected more" from fellow MotoGP world champion Jorge Lorenzo in his debut season with Ducati last year.
Lorenzo made a high-profile switch from Yamaha to Ducati for 2017, but he struggled to adapt to the Italian machine, finishing seventh in the championship while team-mate Andrea Dovizioso battled Honda's Marc Marquez for the title.
"I won't lie: I expected more from Jorge," Stoner, who continues to work with Ducati as a test rider, told Autosport.
"I can understand that nine years with a manufacturer [Yamaha] is a long time, and it is difficult when you change to a very different bike and you try to get confidence.
"I think also Jorge struggled to get used to the Michelin tyres as soon as they started to change them a little bit.
"We saw him getting stronger as the season went on, but I assume this year he can be more often fighting for podiums and victories.
"Andrea probably didn't go into the season expecting to be so competitive – saying that, his attitude, method and everything worked really good last year."
Stoner believes the 2018 Ducati will suit Lorenzo's style more.
"It will be better for him and for everybody riding a Ducati," he added.
"Jorge is a little bit more particular in the way he likes to ride the bike, but as you saw, he started to become more comfortable at the end of the year and the performance between him and Andrea was very similar.
"With completely different riding styles, they arrived at the same point.
"If we do some steps forward, both of them will take advantage."
Stoner, who was in action at this week's Sepang test, said the latest breed of Ducati machinery is better than the bike he won the 2007 title on.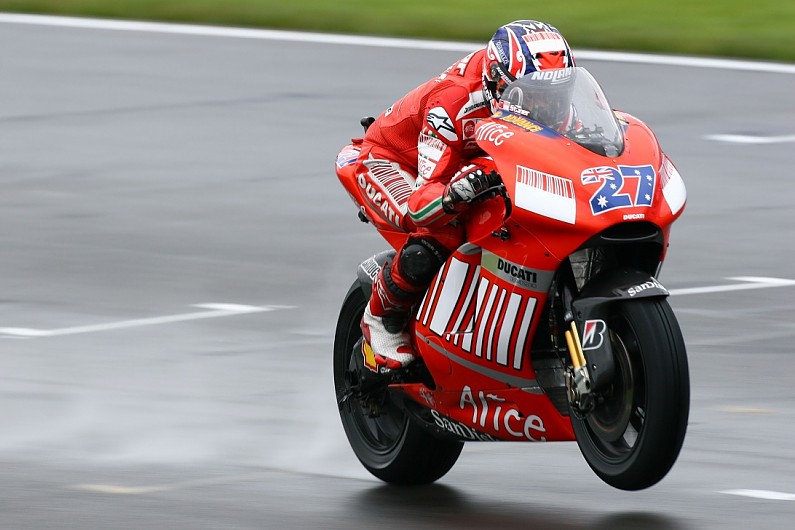 "In 2007, except from the engine, the bike from that year did nothing else well," he said.
"I had problems going through the corners and coming out of them.
"At braking points it was quite good and it went pretty well in a straight line.
"If you tried to do anything else, it was very difficult. Now we have a better overall package."
He also admitted he has been close to race return on a couple of occasions in recent years.
"I was close to coming back and racing in a grand prix twice, but situations and circumstances didn't work," Stoner said.
"There were two races in which I was quite sure I was going to race, but no more than this."