Alex Bowman scored a dominant pole position in qualifying for NASCAR's Daytona 500, going fastest in both rounds of qualifying and beating nearest rival Denny Hamlin by 0.130 seconds.
Picked as replacement for the now retired Dale Earnhardt Jr, Bowman posted the fastest time of 46.002s right at the end of second qualifying, having earlier topped the times by 0.020s in the first round.
Bowman's pole for the Daytona 500 NASCAR Cup season opener is the fourth in as many years for the Hendrick Motorsports squad, with Bowman following up team-mate Chase Elliott's pair of poles in 2016 and '17 and his predecessor Jeff Gordon's '15 effort.
Joe Gibbs Racing's Hamlin completed the front row, also matching his result from the first round of qualifying.
NASCAR's first race of the year has a unique qualifying structure, with 12 cars progressing to the second round of qualifying and only the two fastest drivers' positions locked in for the following Sunday's race after that.
The rest of the field will have their starting positions determined by the results of the two 'Duel' races next Thursday night.
Bowman and Hamlin's respective team-mates, Jimmie Johnson and Kyle Busch, posted the third and fourth quickest times, earning them front row starts for each of the Duel races next Thursday.
The rank and file nature of the fastest drivers continued, as Hendrick and JGR cars were fifth and sixth in the second round of qualifying, William Byron edging out Erik Jones.
All four of Joe Gibbs' cars were in the top seven, with Daniel Suarez leading Ford pair Kevin Harvick and Ricky Stenhouse Jr.
Last year's polesitter Elliott completed the top 10, just ahead of Joey Logano.
Paul Menard was the only driver from a single-car team to make it into the second qualifying round, the Penske-affiliated Wood Brothers Racing Ford going slowest in the pole position run-off.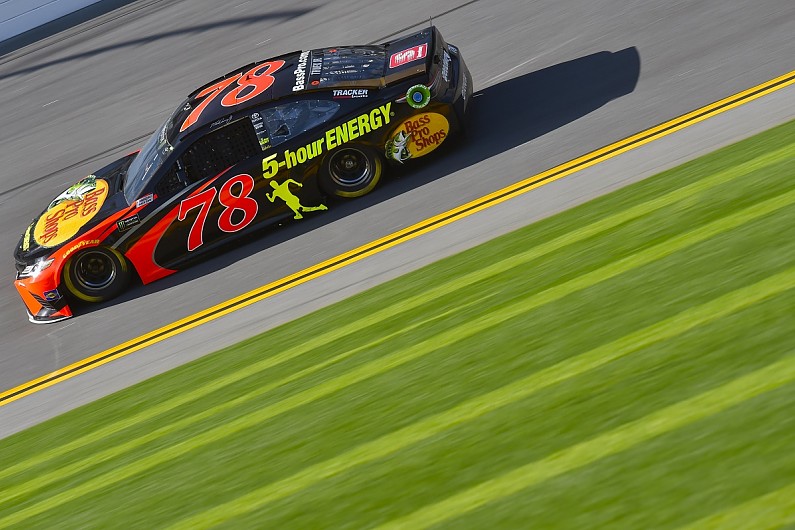 Reigning Cup champion Martin Truex Jr (pictured above) was 26th in his Furniture Row Racing Toyota, two places ahead of Danica Patrick – who will contest her final Daytona 500 this year.
A brief red flag was deployed during the first qualifying round, as David Ragan's #38 Ford suffered a brake problem.
The Front Row Motorsports driver will start from the rear of the field in one of next Thursday's Duel races, having failed to set a time.
BK Racing's Gray Gaulding joined Ragan on the sidelines, his car failing to pass through scrutineering in time to take his allocated qualifying slot.
Second qualifying times
| Pos | Driver | Team | Car | Gap | Laps |
| --- | --- | --- | --- | --- | --- |
| 1 | Alex Bowman | Hendrick Motorsports | Chevrolet | 46.002s | 1 |
| 2 | Denny Hamlin | Joe Gibbs Racing | Toyota | 0.130s | 1 |
| 3 | Jimmie Johnson | Hendrick Motorsports | Chevrolet | 0.215s | 1 |
| 4 | Kyle Busch | Joe Gibbs Racing | Toyota | 0.222s | 1 |
| 5 | William Byron | Hendrick Motorsports | Chevrolet | 0.259s | 1 |
| 6 | Erik Jones | Joe Gibbs Racing | Toyota | 0.277s | 1 |
| 7 | Daniel Suarez | Joe Gibbs Racing | Toyota | 0.278s | 1 |
| 8 | Kevin Harvick | Stewart-Haas Racing | Ford | 0.279s | 1 |
| 9 | Ricky Stenhouse Jr. | Roush Fenway Racing | Ford | 0.379s | 1 |
| 10 | Chase Elliott | Hendrick Motorsports | Chevrolet | 0.411s | 1 |
| 11 | Joey Logano | Team Penske | Ford | 0.435s | 1 |
| 12 | Paul Menard | Wood Brothers Racing | Ford | 0.582s | 1 |
First qualifying times
| Pos | Driver | Team | Car | Gap | Laps |
| --- | --- | --- | --- | --- | --- |
| 1 | Alex Bowman | Hendrick Motorsports | Chevrolet | 46.181s | 1 |
| 2 | Denny Hamlin | Joe Gibbs Racing | Toyota | 0.020s | 1 |
| 3 | Ricky Stenhouse Jr. | Roush Fenway Racing | Ford | 0.132s | 1 |
| 4 | William Byron | Hendrick Motorsports | Chevrolet | 0.147s | 1 |
| 5 | Kyle Busch | Joe Gibbs Racing | Toyota | 0.185s | 1 |
| 6 | Daniel Suarez | Joe Gibbs Racing | Toyota | 0.231s | 1 |
| 7 | Kevin Harvick | Stewart-Haas Racing | Ford | 0.239s | 1 |
| 8 | Jimmie Johnson | Hendrick Motorsports | Chevrolet | 0.239s | 1 |
| 9 | Joey Logano | Team Penske | Ford | 0.241s | 1 |
| 10 | Paul Menard | Wood Brothers Racing | Ford | 0.289s | 1 |
| 11 | Erik Jones | Joe Gibbs Racing | Toyota | 0.332s | 1 |
| 12 | Chase Elliott | Hendrick Motorsports | Chevrolet | 0.353s | 1 |
| 13 | Aric Almirola | Stewart-Haas Racing | Ford | 0.358s | 1 |
| 14 | Austin Dillon | Richard Childress Racing | Chevrolet | 0.365s | 1 |
| 15 | Ryan Blaney | Team Penske | Ford | 0.396s | 1 |
| 16 | Clint Bowyer | Stewart-Haas Racing | Ford | 0.477s | 1 |
| 17 | Kurt Busch | Stewart-Haas Racing | Ford | 0.497s | 1 |
| 18 | Kasey Kahne | Leavine Family Racing | Chevrolet | 0.513s | 1 |
| 19 | Brad Keselowski | Team Penske | Ford | 0.517s | 1 |
| 20 | Trevor Bayne | Roush Fenway Racing | Ford | 0.600s | 1 |
| 21 | Ryan Newman | Richard Childress Racing | Chevrolet | 0.635s | 1 |
| 22 | Kyle Larson | Chip Ganassi Racing | Chevrolet | 0.636s | 1 |
| 23 | Jamie McMurray | Chip Ganassi Racing | Chevrolet | 0.655s | 1 |
| 24 | Michael McDowell | Front Row Motorsports | Ford | 0.718s | 1 |
| 25 | Darrell Wallace Jr. | Richard Petty Motorsports | Chevrolet | 0.757s | 1 |
| 26 | Martin Truex Jr. | Furniture Row Racing | Toyota | 0.821s | 1 |
| 27 | Ty Dillon | Germain Racing | Chevrolet | 0.893s | 1 |
| 28 | Danica Patrick | Premium Motorsports | Chevrolet | 0.900s | 1 |
| 29 | Chris Buescher | JTG Daugherty Racing | Chevrolet | 0.914s | 1 |
| 30 | A.J. Allmendinger | JTG Daugherty Racing | Chevrolet | 0.963s | 1 |
| 31 | Brendan Gaughan | Beard Motorsports | Chevrolet | 1.217s | 1 |
| 32 | Justin Marks | Rick Ware Racing | Chevrolet | 1.283s | 1 |
| 33 | Matt DiBenedetto | Go FAS Racing | Ford | 1.494s | 1 |
| 34 | D.J. Kennington | Gaunt Brothers Racing | Toyota | 1.667s | 1 |
| 35 | Jeffrey Earnhardt | StarCom Racing | Chevrolet | 1.685s | 1 |
| 36 | David Gilliland | RBR Enterprises | Ford | 1.703s | 1 |
| 37 | Mark Thompson | MBM Motorsports | Ford | 2.086s | 1 |
| 38 | Corey LaJoie | TriStar Motorsports | Chevrolet | 2.191s | 1 |
| 39 | Gray Gaulding | BK Racing | Toyota | – | 0 |
| 40 | David Ragan | Front Row Motorsports | Ford | – | 0 |