Ducati is prepared for a "difficult negotiation" to retain Andrea Dovizioso for the 2019 MotoGP season, according to the team's sporting director Paolo Ciabatti.
Dovizioso enjoyed a breakthrough campaign with Ducati in 2017, winning six grands prix and taking the championship battle with Marc Marquez down to the final race.
But the 31-year-old – along with almost the entire premier class grid – is out of contract at the end of 2018, and his strong recent form is expected to make him a key player in the silly season.
In an interview with Italian newspaper Corriere dello Sport, Ciabatti admitted that Dovizioso is likely to demand a salary similar to that of MotoGP's biggest names when it comes to negotiating terms to remain at the squad he has raced with since 2013.
He underlined Ducati's preference is to retain both Dovizioso and three-time champion Jorge Lorenzo, who was lured away from long-time employer Yamaha at great expense but endured a winless 2017.
"Obviously we would like to keep both riders, but our budget is not infinite and we cannot spend it all in one direction while retaining a margin for development," said Ciabatti.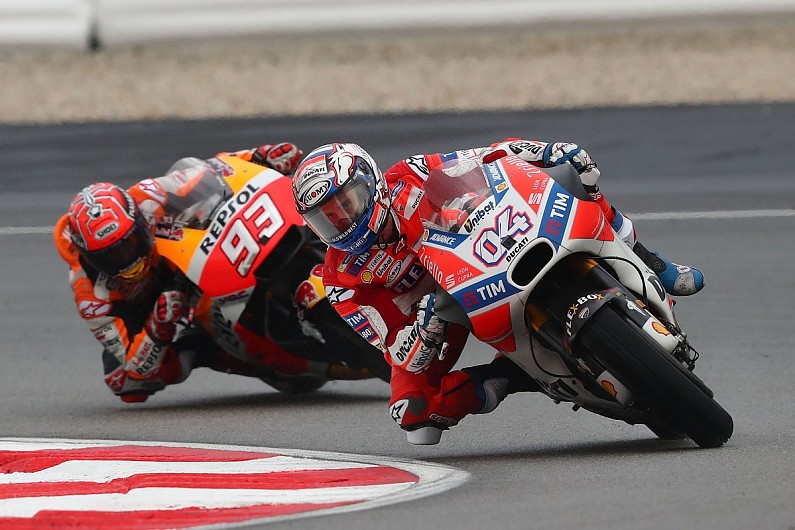 "We are aware Dovizioso expects an offer in line with his latest results – obtained, it must be said, thanks to his great personal development and exceptional form, but also thanks to the sport and the competitiveness of his Ducati. Six races are not won by accident.
"We will start talking to Andrea soon, about both financial and technical matters.
"He expects a salary in line with that of the other top riders. It will be a difficult negotiation.
"We will start talking after the Sepang test at the end of the month."
Last year, Dovizioso revealed he had been approached by Honda about a potential return to the team he raced for in 2009-11 in the event that it lost Dani Pedrosa to Yamaha.
Honda and Yamaha have both denied having any intention to poach Dovizioso for 2019.