KTM rider Pol Espargaro feels "lucky" to have avoided a serious injury following a crash on the second day of Sepang MotoGP pre-season testing.
The Spaniard locked up approaching the Turn 4 right-hander during Monday's test session and fell from his bike.
He hit the wall on the outside of the straight at more than 150mph before rolling several times and ending up in the gravel.
Espargaro had x-rays at the track clinic and in later Kuala Lumpur and, although nothing was found to be broken, the Spaniard opted not to ride on Tuesday's final day of running.
"I feel lucky because I had a big crash yesterday," he said.
"I had a big lock-up on the straight. When I touched the brake I had a big lock and I went into the outside wall.
"It was really close – I hit with a speed more than 250 km/h [155mph].
"[But] nothing really big happened and [I have] no broken bones or anything like that.
"It's just physical pain everywhere, especially in my feet because I did many flips.
"Even if today I cannot ride I feel lucky to be here and to be working."
Espargaro will be taken for further tests in Barcelona when he returns from Sepang.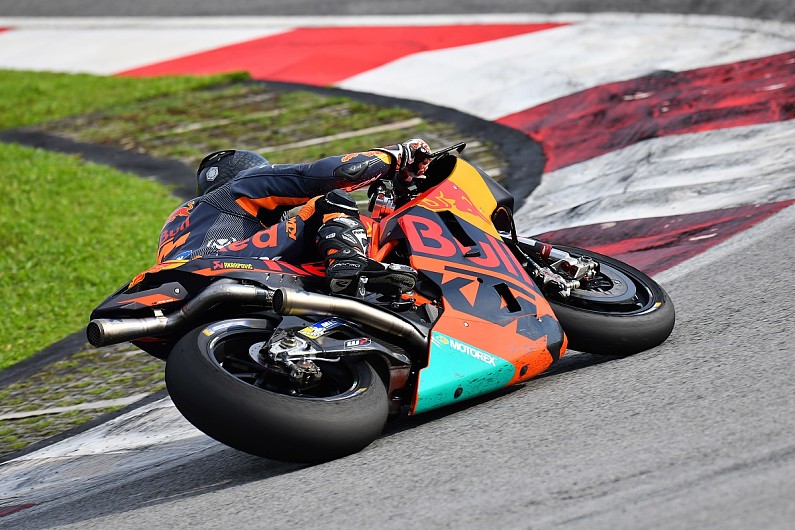 KTM test rider Mika Kallio (pictured above) took over Espargaro's testing duties in his absence on the final day of running.
Espargaro was frustrated to miss out on the final day of running but said he was grateful to have Kallio as a test rider that he "trusts 100%".
"I don't like that I cannot test the things that are ready for the bike," he said.
"[But] KTM did a very good strategy test here in Sepang, Mika was here already to ride and he was riding together with Bradley [Smith] and me.
"He [Kallio] is really sensitive, he is riding with my bike, testing my things and I trust him 100%.
"I have good guys on the pitbox, working with my bike and checking what I couldn't so I am grateful for them."