Williams performance chief Rob Smedley says Felipe Massa could not have ended his Formula 1 career any better than with his two strong races in Brazil and Abu Dhabi.
Massa enjoyed tussles with his former Ferrari team-mate Fernando Alonso in both events, earning seventh and 10th and taking his points tally for the season to 43.
Smedley, who has worked with Massa for over a decade at Ferrari and subsequently Williams, insists that the Brazilian was at the top of his game until the very end.
"Look how he's finished, he's finished absolutely on a high," Smedley told Autosport.
"He's had 16 years in this paddock, either being extremely competitive at the level where he was going to win a world championship, or being as competitive as he could be in the car that was given to him.
"To go out at the top of your game, still delivering for the team, still giving them points, still having that extra special lap in qualifying, there's no better way to go out.
"He's such a popular guy, and that's a measure of him."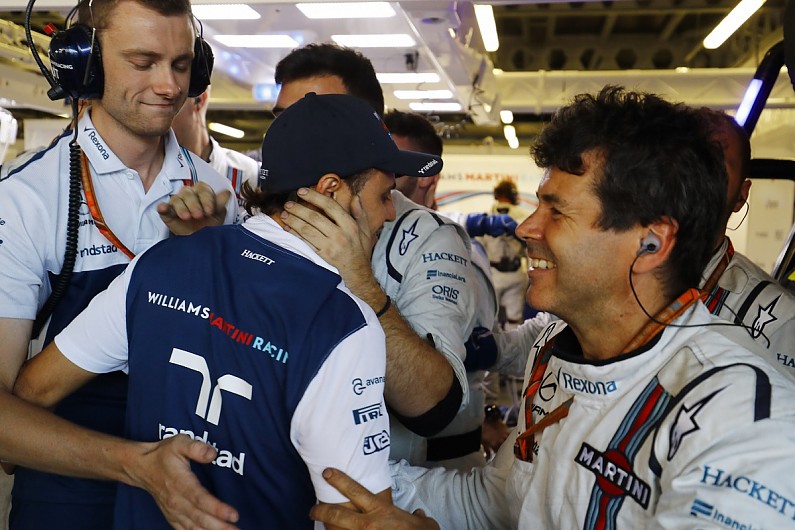 Smedley is adamant that Massa should have scored many more points in 2017, with a retirement in Baku, and issues elsewhere such as punctures in Spain and Russia, proving expensive.
"Every man and his dog can claim they could have won that Baku race," said Smedley.
"We were winning that race, that race was his to win, and what a special moment that would be in his last season in F1.
"He was pitch perfect throughout that race, but there were reliability problems.
"We've probably lost about half the points on that car that we should have had."
Smedley admits that he expects to miss Massa on race weekends, although the pair remain close.
"I'm going to miss him at work, but he's my mate," he said.
"Our wives are friends, our kids are friends, he's like a little brother.
"He's part of my family and I'm part of his family, that will continue, it's not going to change anything.
"But not having him at work, it's a strange feeling, just having someone to sit down and have a cup of tea with and talk about stuff going on back at home just to clear your head of the intensity of a grand prix weekend, I think that's the bit I'm going to miss."