The 10 Formula 1 teams collectively received $47million less than the previous year during the first season of Liberty ownership.
Though the downward trend in F1 income had been known for some time, publication of the F1 Group's fourth quarter results for 2017 provides the full official picture.
Payments to teams fell 5% from $966m in 2016 to $919m, the first time that team income has gone down.
Liberty also revealed that the F1 Group's overall revenues fell by $12m from $1796m to $1784m.
The drop in revenue reflects the fact that there were 20 grands prix in 2017 rather than 21 as the previous season.
In addition, before he left Bernie Ecclestone agreed that the Brazilian GP would pay a lower fee than originally planned from 2017 onwards.
F1 also lost two major sponsors, UBS and Allianz, during the transition from Ecclestone to the Liberty era.
The biggest impact on team payments is the rise in costs, with Liberty moving to a new London HQ, massively expanding staffing levels, and spending on activities such as the F1 Live in London event.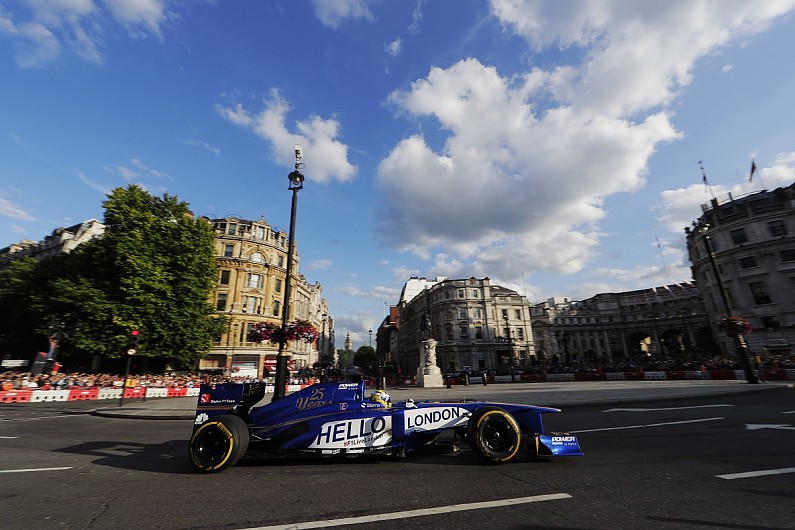 Liberty noted: "Cost of F1 revenue increased primarily due to spend on fan engagement, filming in ultra high-definition and higher freight costs, which more than offset reduced team payments.
"Selling, general and administrative expense also increased for the fourth quarter and full year 2017 as a result of additional headcount and new corporate offices."
The teams have questioned whether some of that expenditure should have come from new investment by Liberty, rather than from their own income.
Autosport revealed in October that the six Strategy Group teams put their objections to Liberty in writing, and the debate has continued since then.
F1 CEO Chase Carey has made it clear that the hike in running costs relative to the Ecclestone era will be ongoing.
"We've settled into our new London headquarters," he said on Thursday.
"With headcount currently around 120, expecting to settle around 150 by mid-to-late 2018.
"Overall we expect the associated incremental step-up in overhead to be $50m annually compared to 2016, excluding marketing and development expense tied largely to new initiatives."
Carey said that one of F1's goals for 2018 was "to improve our balance sheet and maximise our long-term cashflow.
"A year ago we had over $4billion in external gross debt, and today we're at $3.2bn, with approximately $115m in annualised interest savings and an improved tax structure.
"We also eliminated the potential overhang in prior share sales from prior F1 owners."
Carey remains bullish about the prospects of boosting F1's income.
"We were positively surprised by the excitement from existing partners to expand and grow their relationships with us, and the level of interest from new commercial sponsors," he said.
"There's real enthusiasm from new potential sponsors, promoters and video entities to engage with F1.
"Many of these will take time to develop in the right way, and our priority again is building long-term value, not a short-term buck."