Hendrick Motorsports owner Rick Hendrick says Chase Elliott's first NASCAR Cup series win at Watkins Glen is a "huge shot in the arm" for his organisation heading into the playoffs.
Hendrick underwent huge changes for 2018 following the retirement of team veteran Dale Earnhardt Jr and the exit of the experienced Kasey Kahne, with the pair replaced by Xfinity champion William Byron and Alex Bowman.
Those changes came at the same time as Hendrick changed how it operates, as well as learning Chevrolet's new Camaro.
Elliott's first win came after eight Cup second place finishes, and meant he became the first Hendrick driver to book his place in the playoffs. None of his team-mates have won in 2018, with seven-time Cup champion Jimmie Johnson on a run of 49 races without a victory.
Hendrick believes Elliott's win will be crucial to the team's playoff preparations.
"When you have a dry spell, this is the right time to get the momentum," he said. "This is the right time to be closing the gap and building that momentum.
"I'm so proud of all the folks at Hendrick Motorsports for keeping their head down and working hard.
"The last three weeks Chase has won stages in every one of the races and to see Alex [Bowman in 14th] and William [Byron in eighth] run well – Jimmie got turned [and finished 30th], but I'm just so proud of the effort for everyone.
"We had a lot of change, new drivers, young drivers, but I feel really good about the future.
"I feel good going into the playoffs. It's going to be super competitive, but I think we know we still have a lot of work to do, but this is going to motivate our people to just step it up again.
"It's a great shot in the arm for the whole organisation."
Elliott ran out of fuel after the chequered flag and was pushed to victory lane by Johnson in order to celebrate his win.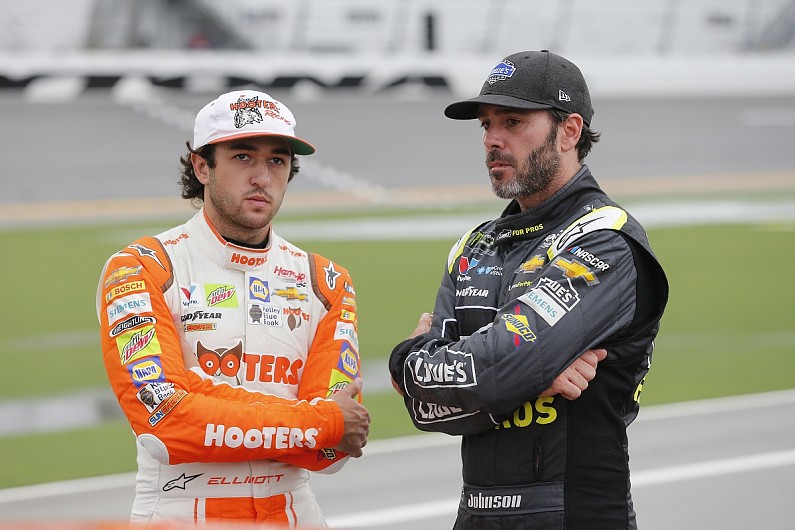 The first-time Cup winner said Johnson's role as a mentor has been crucial to his breakthrough.
"One of the many cool things was Jimmie Johnson pushed me back to the front straightaway; he's been a hero of mine for a long time, and he's been a big supporter of mine, a guy I've leaned on a lot through some of those hard days," said Elliott.
"He was the first guy at my car to talk to me after Dover last fall [when Elliott was notably dejected after losing to Kyle Busch], and then to have him push me to Victory Lane was pretty cool.
"He and I were out in Colorado at the same time last year and I had an opportunity to sit down with him and just talk about some of those disappointing days.
"When you have a chance to talk to somebody like him about those days, that's certainly a character‑building moment."