Andrea Iannone says he will "never understand" why Suzuki has decided to let him go at the end of the 2018 MotoGP season.
Former Ducati rider Iannone suffered a torrid first campaign with Suzuki last year, mainly due to a wrong engine specification being chosen ahead of the season based on his feedback, but has enjoyed a much more successful second year there.
He feels his development work has been crucial to the team's improvement, as it went from zero podiums in 2017 to seven – four via Iannone, three from team-mate Alex Rins – so far this year.
But Iannone is moving to struggling Aprilia for 2019 as Suzuki dropped him in favour of Moto2 graduate Joan Mir.
"I don't know and I'll never understand it, it's difficult to say," Iannone said when asked if he had a sense of why Suzuki chose to let him go.
"2017 had been a complicated year for both of us and they made that decision.
"2018 went differently, I think I showed a lot, especially when the material related to my requests arrived, the results started to come with both me and Rins.
"I'm sorry because I think that after a difficult year like 2017 I gave some important indications and I made the bike grow.
"There are still a lot of things to improve, but it's no longer up to me to say in which direction we should go in.
"I just work for my weekend. But I think if we had continued together, we could have done more."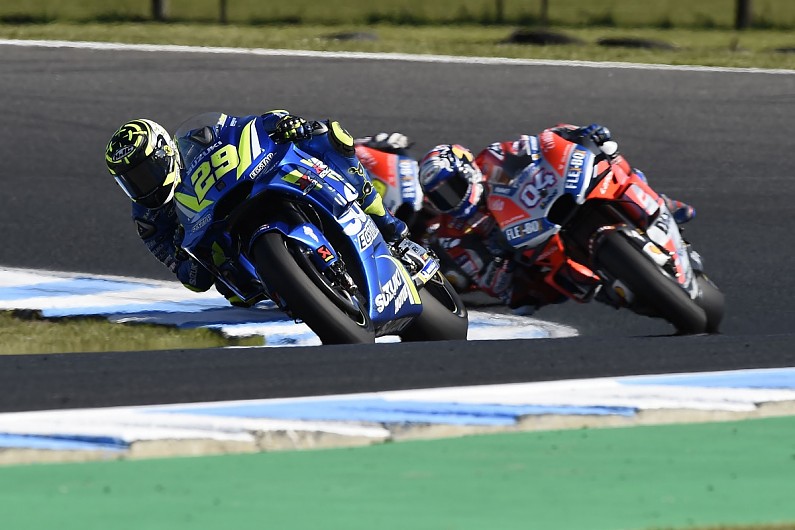 While Iannone has been strongly criticised during his Suzuki tenure, notably by brand ambassador Kevin Schwantz, he insisted his relationship with the team never went sour.
"I think we've grown up well this year," he added.
"Our relationship had continued, even other races could have gone better, in a group and on the wave of enthusiasm.
"I am now out of this team, so the results that I can do are worth double.
"Having Andrea Iannone in a team like this, many times it's comfortable, but it can also be uncomfortable, because Iannone is a rider who wants to win and demands certain things.
"In the end I'm happy with this, of having contributed to the growth of Suzuki."
Iannone's second place in last weekend's Australian Grand Prix moved him up to eighth in the championship with two rounds to go. Team-mate Rins is four points behind in 10th.