Hendrick Motorsports has secured a new full-time sponsor for Jimmie Johnson in the NASCAR Cup Series to replace outgoing sponsor Lowe's.
Seven-time Cup champion Johnson has been sponsored by Lowe's since making his debut in the series in 2001, but it announced earlier this year it would not continue with the #48 team beyond 2018.
Hendrick announced Sunday at Martinsville that Ally Financial will serve as Johnson's primary sponsor for 38 races (36 points races and two non-championship events) for the next two years, matching the length of Johnson's current contract with the team.
Ally Financial Inc. is a digital financial services company whose services include online banking, car finance, corporate lending, vehicle insurance, mortgages, credit cards, and brokerage firm services.
"This is a proud day for our entire organisation," team owner Rick Hendrick said in a statement.
"Ally has built a tremendous brand by putting the customer at the centre of their decisions and doing things right.
"In the same way, Jimmie has always put people first and handled himself like a champion in every sense of the word.
"Ally's full-season commitment makes a powerful statement about their enthusiasm for him, our program and the direction of our sport.
"It's an unbelievable fit, and all of us are thrilled to launch what will be a long and successful partnership."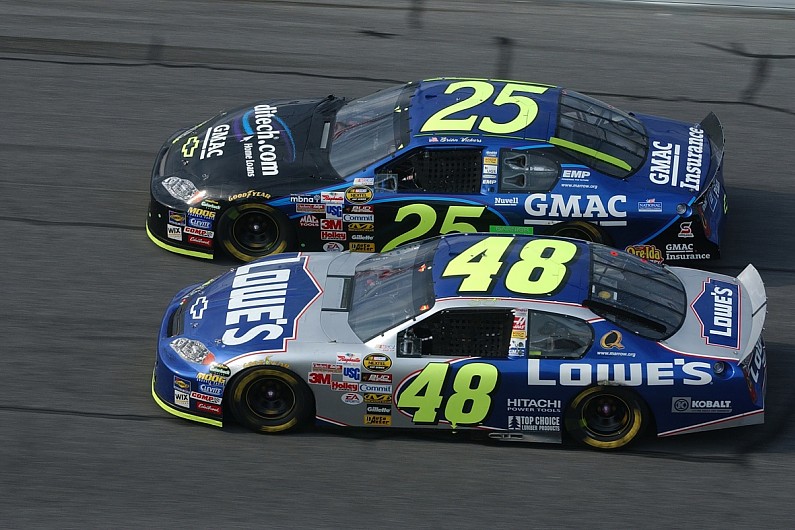 Ally Financial was previously known as GMAC, which sponsored various Hendrick entries across all three of NASCAR's national divisions from 1993-2007 (pictured with Brian Vickers alongside Johnson in 2005).
Johnson said he would do his part to ensure "it's the best investment they've ever made."
"Their commitment to leading in both the workplace and the community is something that resonates with me in a big way," Johnson said.
"They've sent a strong message about how much they believe in me and in our team.
"I'm ready to chase more history with Ally on board the #48."