Stewart-Haas Racing driver Kevin Harvick has lost his NASCAR Cup series points lead after he was penalised following his win at Las Vegas.
Harvick led 214 of 267 laps at Las Vegas to make it two dominant wins back-to-back, following his victory in the previous round at Atlanta.
But Harvick's rear window was flexing on the upper right-hand side during the race at Las Vegas and it has been confirmed that the rear window support braces did not keep the rear window glass rigid in all directions at all times as required.
The SHR Ford was also found to have an unapproved right-side rocker panel extension.
Harvick has been penalised 20 points, dropping him to third in the standings behind Joey Logano and Ryan Blaney.
SHR says it is considering its options and has not ruled out appealing the decision.
"NASCAR made us aware of a penalty they're imposing on our #4 Cup Series team," said SHR vice president Greg Zipadelli in a statement.
"We're going to take the time and evaluate our options, and we plan to continue dialogue with NASCAR to fully understand the rationale behind the penalty."
During the race, Chase Elliott's crew chief was heard discussing Harvick's Ford flexing, while Dale Earnhart Jr talked about the problem on his radio show this week.
"The roof of the car seems to have some kind of deflection," Earnhardt said. "It's something at speed that seems to be altering the shape of the roof.
"If they are actually doing something that pops back into place when the race is over, it's pretty incredible."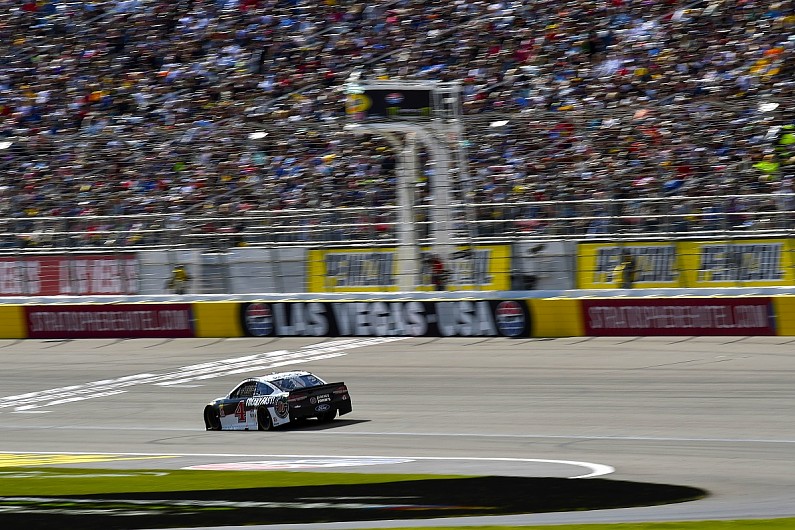 But Harvick's crew chief Rodney Childers, fined $50,000 for the infraction, says his team has not intentionally broken the rule.
"It's funny to me to read that stuff," he said on NASCAR's SiriusXM radio.
"It's like everybody thinks I'm a genius and we just all of a sudden made this happen on its own.
"Basically, we had a rear window brace fail. It's not something that we wanted to happen.
"I think everybody thinks that it helped. I would suggest that it probably didn't help.
"The car was plenty fast enough before that happened, and I think everybody in the garage knows that."
Meanwhile, Harvick's Cup rivals had mixed feelings about his week of dominance.
One-time Cup champion Kyle Busch and Martin Truex Jr dominated the 2017 season for Toyota, but Busch says Harvick cannot be assessed yet.
"It's early [and] it's race three," said Busch. "Show me that on race number 26 or 36.
"I don't remember the last time I had as dominant car as we've seen from [Harvick] the last couple weeks."
Truex added: "The #4 was pretty much in his own league."
Harvick also loses seven playoff points, which could prove significant as they are used in the first three rounds of elimination and help determine passage into the next phase.
His win at Atlanta means Harvick is still for a playoff spot, even though Las Vegas cannot now count.