Joey Logano says the collision with Martin Truex Jr that secured his Martinsville Cup race victory was a "classic" NASCAR move.
Truex was furious over the final-corner clash, having taken the lead from Logano after a long battle only to end up third as the contact sent both sideways.
While Logano recovered in time to snatch the win, Truex fell to third behind Denny Hamlin.
Told that Truex had described his move as "cheap", Logano replied: "My goal was not to wreck him in any way. My goal was to win the race.
"I don't want to win by dumping somebody. I want to win by making a move.
"That was the classic bump-and-run. That was the move that our sport and Martinsville in particular was built on.
"I owe it to my race team to do everything I can to win a race and get another shot at winning a championship. That's my job. They did their job. I had to do my mine.
"It wasn't a move that sent him three lanes up the racetrack.
"I got beneath him, we bumped and banged across the line. That's the way I wanted to do it, to be able to get a win.
"I wasn't going to spin him out, I didn't want to crash him or do anything like that."
Logano reckons Truex will regret hinting that he will retaliate for the move.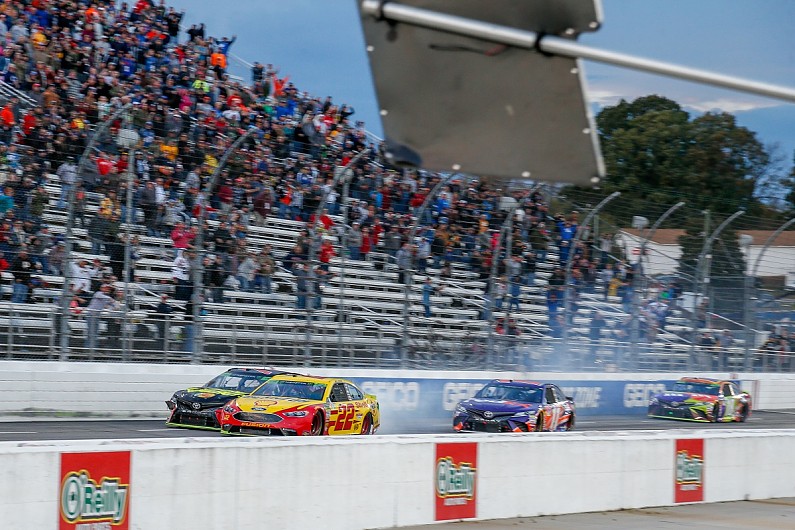 "In the heat of the moment we're all going to say things we regret," said Logano.
"I'm not saying he regrets it. I don't know. I know I said things in the heat of the moment when I wish I didn't a lot of times.
"How he wants to handle it from here, that's his decision.
"My focus can't be on that. It has to be on winning a championship. There can't be distractions."
Logano's team boss Roger Penske accused Truex of "stirring some controversy that he's trying to spread" and said his criticism was unjust.
"He's a racer and should know better than to say that," said Penske.
"That's as clean a shot as you can have in a race like this.
"Joey ran a great race. That's just a comment that I don't think we deserve.
"He didn't knock him off the racetrack. It was side-by-side racing at the end. Nobody lifted.
"I thought it was fair, I thought it was square, and Joey deserved the win."