Jorge Lorenzo reckons Ducati's 2018 bike can still be significantly improved, despite the Spaniard topping the Sepang MotoGP pre-season test with a fastest ever lap of the Malaysian circuit.
Lorenzo set an unofficial new lap record at the Malaysian circuit on the final day of the test on Tuesday with a time of 1m58.830s.
He previously said the GP18 is closer to his riding style and is better at cornering, which has traditionally been the Ducati's weak point.
But Lorenzo thinks there is still room for improvement with the new bike.
"I think we still have quite a big margin to arrive to our maximum potential," he said.
"This is a good sign because we finished first today [Tuesday] and we still have some margin.
"The chassis is improved, the engine is more smooth in the corners; we probably still have to improve in the high RPM but we will keep working, we will find a way.
"For this track [Sepang] the new bike is better, [we can] be fast for one lap.
"We have to see for the race because we didn't have the chance to make a completely full simulation but the feelings are very good.
"This bike gives me more confidence and it is more to my riding."
Dovizioso: Ducati stronger than after first 2017 test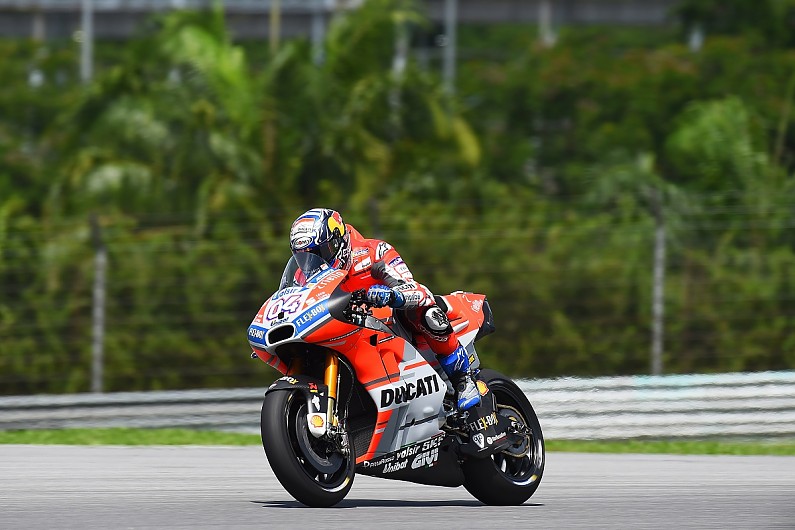 Andrea Dovizioso, who was fourth on day three at Sepang despite a crash, echoed team-mate Lorenzo's claim about the bike's improved cornering.
The 2017 championship runner-up added the team is in a better position than after the first test of the previous season.
"[We are in a better position] for a lot of reasons, first because we fought for the championship last year and this created in my mind and in the mind of my team a different approach of everything," he said.
"This is positive but also the new bike is better than last year.
"Last year we were quite fast but we weren't the fastest these three days.
"The feeling was really good."