Defending NASCAR Cup series champion Martin Truex Jr's move to Joe Gibbs Racing for the 2019 season has been confirmed.
Truex's title defence has been overshadowed by his Furniture Row Racing squad losing a key sponsor that put the team's future in doubt.
Team owner Barney Visser then confirmed he was unwilling to pay for the team out of his own pocket, and later announced the one-time champion outfit would close its doors at the end of 2018 due to a lack of "necessary funding".
Autosport exclusively revealed that Truex's likely destination was to be with Joe Gibbs Racing, the team that Furniture Row had a technical partnership with as fellow Toyota squads.
That partnership had to be re-aligned after the crews of JGR's Kyle Busch and Truex clashed on the pitwall at Indianapolis in 2017.
Truex will bring his long-time crew chief Cole Pearn with him to the team, with current JGR driver Daniel Suarez losing his place as a result.
"Anytime you have an opportunity to bring two people of this calibre into your organisation, it's certainly an exciting time," said JGR owner Joe Gibbs.
"They obviously have developed a chemistry that has led to tremendous success, including a championship.
"We've gotten to know them well over the past few years through the alliance and having been part of the Toyota family.
"They both make us stronger as an organisation."
Truex said: "I'm really excited to have the opportunity to join Joe Gibbs Racing.
"Obviously to be able to make this transition and still be able to work alongside Cole is something that was very important to me.
"There is also a real comfort level working with the JGR team and I wanted to stay in the Toyota family.
"We still have big goals for the remainder of this season, but it's nice to know what we will be doing in 2019."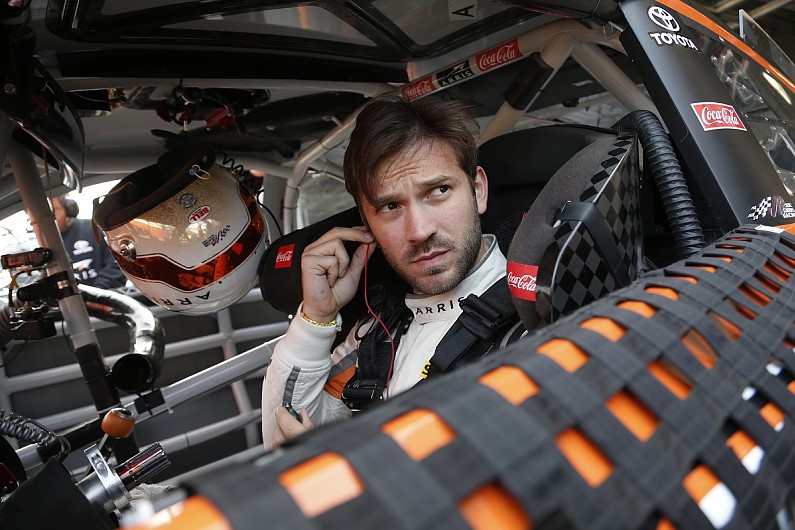 Suarez (pictured) leaves JGR after just two seasons, having joined the team as the 2016 Xfinity series champion to replace Carl Edwards following his retirement ahead of '17.
He has so far taken one pole for the team and a total of 21 top 10 finishes.
"We really appreciate everything Daniel has done for Joe Gibbs Racing over these past several years," said Gibbs.
"He has made the most of every opportunity from winning the championship in the Xfinity Series to making the jump into the Cup Series for us.
"We look forward to hearing about his plans going forward and know he continues to have a bright future in our sport."
JGR says that the sponsorship package for the #19 Toyota Camry that Truex will drive will be announced at a later date.
Truex is yet to confirm his place in the championship's final four, as he seeks back-to-back Cup titles.