NASCAR Cup Series champion Martin Truex Jr says it is "awesome" that his Furniture Row Racing team beat nearest rival Kyle Busch and Joe Gibbs Racing with their own equipment.
Furniture Row Racing has competed in Cup since 2009 and made a breakthrough in '15 when Truex finished fourth in the standings.
Truex won four races in 2016, before dominating this year and winning his first title.
The upturn in form was helped by a technical alliance between the two Toyota teams of JGR and Furniture Row created in 2016.
Truex says he would not have been in title contention without the Gibbs tie-up, but that he also enjoyed beating the partner team.
"There's no doubt about it, we couldn't be here without Gibbs and all those guys there that are part of our programme and we share information with," he said.
"They build our chassis and Toyota Racing Development building our engines – all that. We couldn't do any of this without it.
"But to be able to take all their stuff and beat them with it is pretty damn awesome.
"It's the best feeling in the world to have the same thing as somebody else and beat them with it.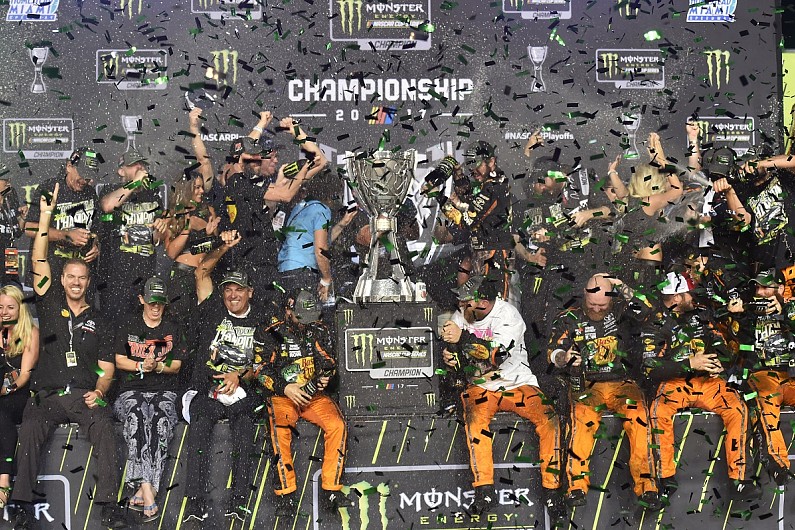 "We share everything. They're great team-mates, great partners.
"We definitely couldn't be here without them, but damn, it feels good to go faster than Kyle and just to beat him felt pretty damn awesome.
"He's a champion, one of the best drivers ever. To beat him was just awesome."
The Gibbs/Furniture Row relationship was not entirely smooth, with a fight at Indianapolis between Truex and Busch's crews forcing a modification to the alliance.
Prior to joining Furniture Row in 2014, Truex had just two wins to his name from eight Cup seasons.
"Trust me, there were years where, as a driver, I was struggling, and you watch other guys dominate, and you're like, 'Man, I know I can do that. I know I can. Give me the damn chance'," he said.
"That's the coolest part of it – just showing people that you've got it, that you can do it."