Reigning NASCAR Cup series champion Martin Truex Jr says the number of wrecks in last weekend's Daytona race was due to "desperation" and drivers 'winging it'.
Roush Fenway Racing's Ricky Stenhouse Jr caused a 20-car pile-up after he spun Brad Keselowski into oncoming traffic, before he later eliminated championship leader Kyle Busch and Hendrick Motorsports rookie William Byron.
Stenhouse was then hit by the spinning Kyle Larson later in the race before a final incident when he collided with Aric Almirola.
The Daytona race was also sent into overtime by a four-car wreck, with a similar incident sending it into a second period of overtime in which Erik Jones emerged as winner.
"It's a desperation kind of race," said Truex, who finished ruuner-up.
"There's a lot of guys out there that need a win [to make the playoffs], want a win, feel like it's their best shot, and they're willing to take big risks, big gambles.
"You look at the guys that were involved in the wrecks and involved in kind of instigating them.
"They're all guys that were not willing to lift. We've seen a couple guys wreck a few times, cause a few wrecks.
"There's a lot on the line. It's a big deal to win at this level, at this race track, and I think a lot of guys just wing it, go for broke."
Joe Gibbs Racing's Denny Hamlin was eliminated in the 20-car pile-up and said it made the race into a "crapshoot", while Chase Elliott's retirement in the second crash prompted him to say "we are not going to have anybody left before it's over with".
Busch added that it was "disappointing to get crashed out by the same guy that caused the first crash".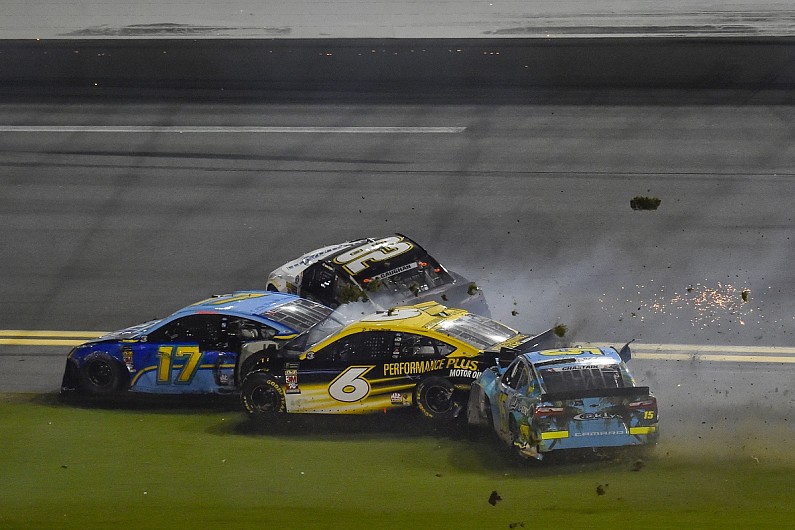 Stenhouse, who won the first two stages at Daytona, initially defended his part in the various collisions as "aggressive speedway racing", before admitting frustration at causing crashes.
"The first one, [Byron] blocked [Keselowski] and from where I was sitting, I thought we were going to get to the inside of him, so I wasn't really expecting Keselowski to check up that quick," Stenhouse said.
"The second one [with Busch], I was just too aggressive trying to get to his left-rear, trying to get back to the lead and back out front where our car was really dominant.
"Winning two stages was nice, but obviously we wanted to win at the end and it's a bummer we basically crashed all of our team-mates out of it.
"I was frustrated with myself causing crashes like that. You don't ever really want to do that."