The NASCAR Cup series is too easily blamed for its pitgun problems even though it has levelled the playing field on pitroad, according to Front Row Motorsports driver David Ragan.
NASCAR opted to introduce new Formula 1-style pitguns for 2018 in an attempt to end a costly development battle between the Cup's larger outfits as they aimed to speed up pitstops.
But the pitguns have been accused of causing failed pitstops, with the series conducting an investigation and implementing a series of changes after a slew of problems at Atlanta.
Stewart-Haas Racing's Kevin Harvick then blasted NASCAR after he suffered what he deemed to be pitgun-related problems at Texas.
But Ragan said the pitguns have helped the smaller outfits.
"Last year there was no chance we could average in the top 10 or 12 in pitstops over a weekend because our equipment was inferior to compared to the Joe Gibbs Racing teams, maybe the Penske teams and Hendrick Motorsports teams," Ragan told SiriusXM NASCAR radio.
"Because they had special components, parts and pieces in their air guns, and maybe even jacks that allowed them to do it faster and more efficiently.
"I know there's been some instances where they've had some malfunctions and issues here and there. We've not had one.
"Our crew has had as many pitstops as anyone this season and we've not had one issue all season-long that I'm aware of."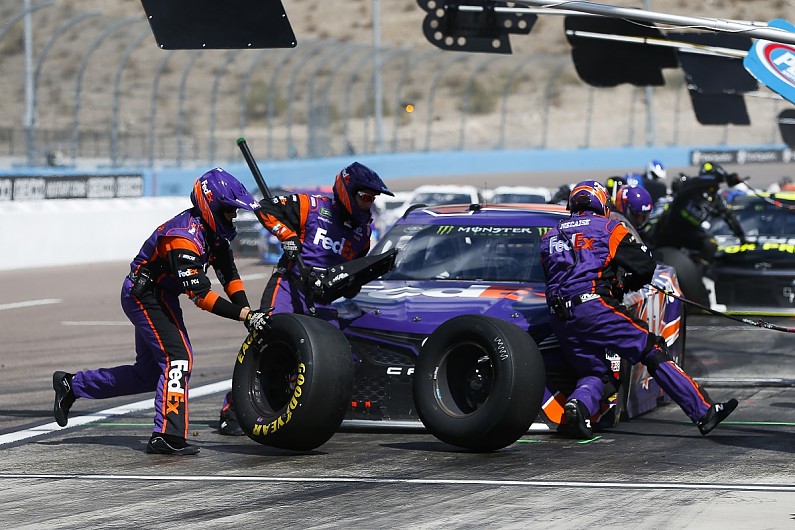 Ragan added that NASCAR had become an easy target for the pitgun problems.
"It's easy to blame NASCAR," he said.
"If it were a Joe Gibbs Racing pit gun, they're probably not going to blame Coach [Joe] Gibbs. You're not going to say anything.
"So I think we've heard a little bit more talk about it because it's someone else's part and it's easy to throw that blame.
"But at the end of the day, it has allowed teams like Front Row Motorsports and I think a few other teams to have some really competitive pitstops."