Valentino Rossi says people were correct to question whether he was too old for a new two-year Yamaha MotoGP deal before his third place finish at the Qatar season opener.
The 39-year-old announced a fresh contract in the run up to the Qatar event that runs until the end of 2020, by which time he will be 41.
After qualifying eighth, the seven-time premier class champion finished the race in third, less than a second behind race winner Andrea Dovizioso and runner-up Marc Marquez.
Rossi said it was "right" that people questioned whether he could still cut it at the front of the field, but added he was still capable of fighting with frontrunners with the correct conditioning.
"When there is news like the renewal, it's right that there's someone who says I'm too old," he said.
"The important thing, though, is what happens on track. I believe it, because I know I can go fast.
"The biggest problem when you get older is your physical condition, but I know if I train hard, more than 10 years ago, I can be fast to the end.
"I feel so many things when I ride the bike and often they are the right things, so if I put everything together I can stay in front."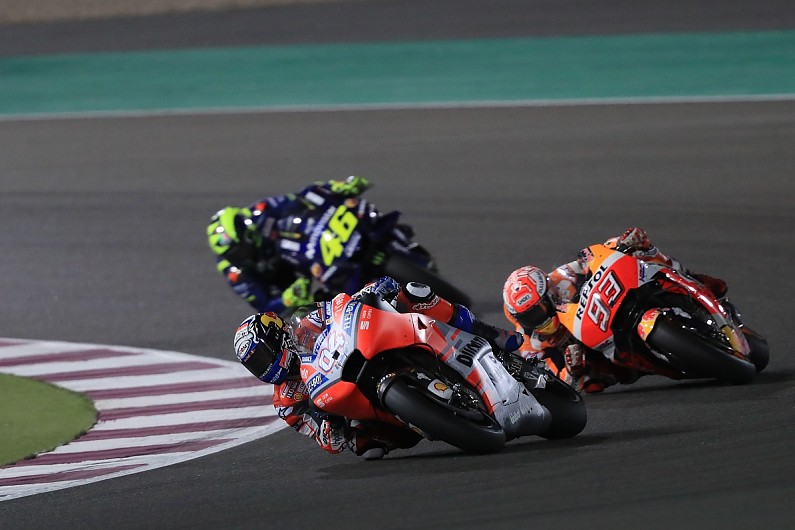 Rossi said his podium was evidence that Yamaha had made a step forward after a troubled end to the 2017 season.
"We missed a little bit to fight for the win, but it was a good start to the championship," Rossi said.
"Last year both Honda and Ducati were having more trouble, but from the middle of 2017 they were really strong, so I think we have made a step forward.
"The first target this year is to not have races like Jerez and Barcelona last year where you go the whole weekend without understanding anything. "We are behind in certain areas, but we can always try to be more competitive."