MotoGP rookie Brad Binder felt he did a "better job" on the KTM during the Jerez test, but admits he is still waiting for "something to click" on the bike.
Last year's Moto2 runner-up Binder will contest his debut season in the premier class with the works KTM squad in 2020, and ended the last test of the year as the slowest permanent rider in 22nd.
Binder admitted during his first test in Valencia that he got lost but felt "more relaxed" at Jerez, and believes the laptimes masked the improvements he made.
However, he concedes there is still "such a long way to go" in his adaptation to MotoGP machinery.
"I feel like I've been doing a better job, especially this test," said Binder, who rode the '19-spec RC16 in both tests in Spain.
"It doesn't show in the laptimes, but I feel more comfortable. Also, I was better from lap-to-lap, rhythm was a bit better.
"But in general, there's such a long way to go and I'm just waiting for something to click."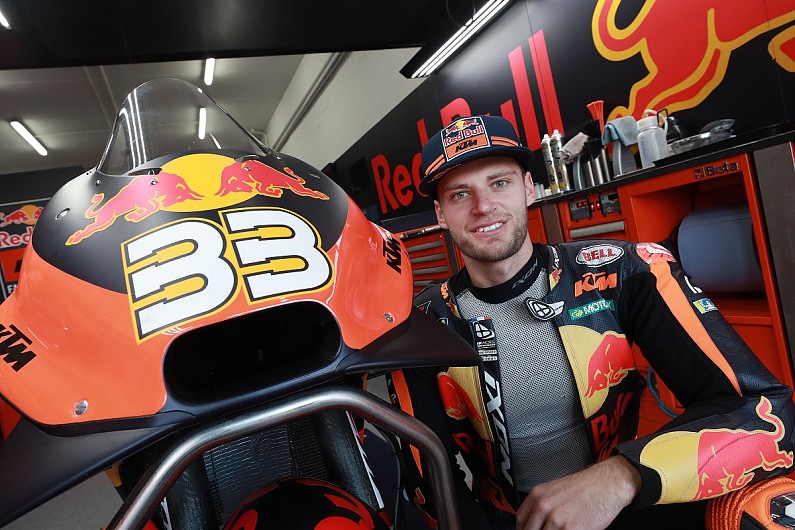 He added: "This test was a lot more relaxed. I already had the taste of a MotoGP bike and things were just a lot more chilled for me.
"I kind of knew what to expect, but saying that, around this track, [the bike], it's an absolute beast.
"It's amazing how when you add so much horsepower and speed how much smaller a track can feel.
"But it was cool, it was nice."
The final day of running at Jerez was interrupted by rain, but Binder seized the opportunity to gain some experience in the conditions and revealed that the MotoGP bike is "way nicer" than Moto2 to ride in the wet due to the electronics and "insane" Michelin tyres.
"MotoGP is way nicer, surprisingly enough," he replied when asked to compare MotoGP and Moto2 bikes in the wet.
"I suppose you've just got the traction control, it's like a buffer, so it makes life a lot easier.
"So, you feel the conditions a lot more. The tyres are next level. It's incredible. The amount of lean angle you use, the grip is crazy.
"I think I'm nowhere near the point where maybe I can say 'ah, that's the limit'.
"So, I think at the minute I've got a lot of leeway. I've got a lot of places I can improve, and I'm looking forward to getting started in Sepang.
"So, it's going to be a long off-season."
Tech3's Lecuona still too aggressive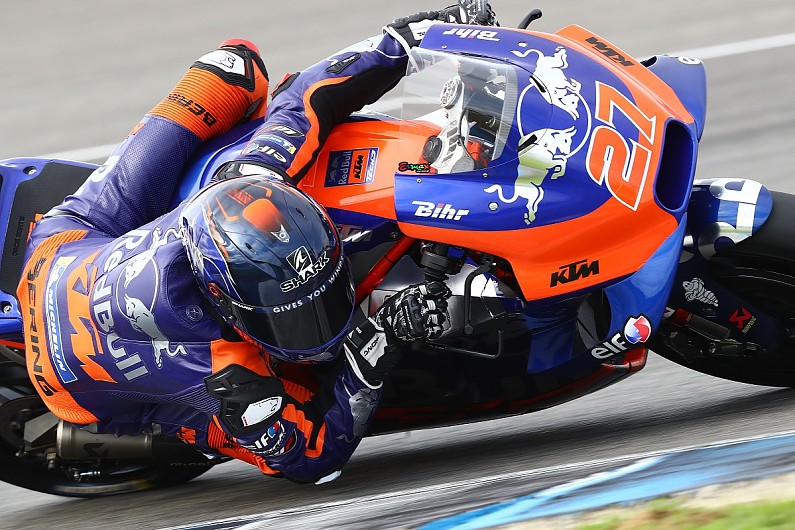 Tech3 rookie Iker Lecuona has highlighted his riding style as the biggest area of improvement needed for the new year as he still "very aggressive" on the KTM.
Moto2 frontrunner Lecuona made his premier class debut at the season-ending Valencia Grand Prix in place of the injured Miguel Oliveira, and was impressively running in the points before crashing out.
He continued his adaptation process in the post-race test and at Jerez in November, though he suffered a fast crash at the Turn 4 left-hander on the first day at Jerez which wrecked his bike and led to him sitting out the rest of the session.
"This track [Jerez], you need to go very smooth with the bike," Lecuona said after that crash.
"[You] don't stress the bike a lot to go fast. For now, I improved a lot in my riding style.
"But I need to continue to improve, because sometimes I am very aggressive [and] I lose a lot."
When asked by Autosport where exactly he is being too aggressive with the bike, he added: "My riding is aggressive, so in general.
"It's true that in braking – maybe I had 16 or 17 laps in the dry conditions [on the final day at Jerez] – But I improved a lot on the brakes and in [lean] angle, for example.
"So, lap-by-lap I improved."