Sergey Sirotkin says driving his Williams in qualifying for the Singapore Grand Prix felt like a battle for 'survival' in its worst qualifying performance of 2018.
Sirotkin and team-mate Lance Stroll qualified on the back row but ended up 1.399 seconds adrift of the McLaren's Stoffel Vandoorne in 18th. The Russian's lap time of 1m41.263s was just 0.071s quicker than Stroll.
The Singapore result was Williams's biggest deficit to the front of the grid that all season, with Lewis Hamilton's pole time 5.125s faster than Sirotkin.
Sirotkin said he was more concerned about crashing than ultimate performance.
"Survival is the best word to explain it," said Sirotkin, when asked by Autosport to describe the session. "The first lap in qualifying you still kind of hope that 'okay, we did a lot of work and it should start working.'
"But then you kind of start pushing, like you would do in qualifying, and then you realise [it is not working].
"From my first lap I had at least two moments, when I had already like 99% given up on the thing and was preparing for the crash.
"I mean it's been so much on the edge. For the second run, basically, you just change your mentality, saying that this is not the way to go.
"This is not the way you want to take qualifying and this is not the way you enjoy it as a driver. So survival is for sure the best and the shortest way to describe it."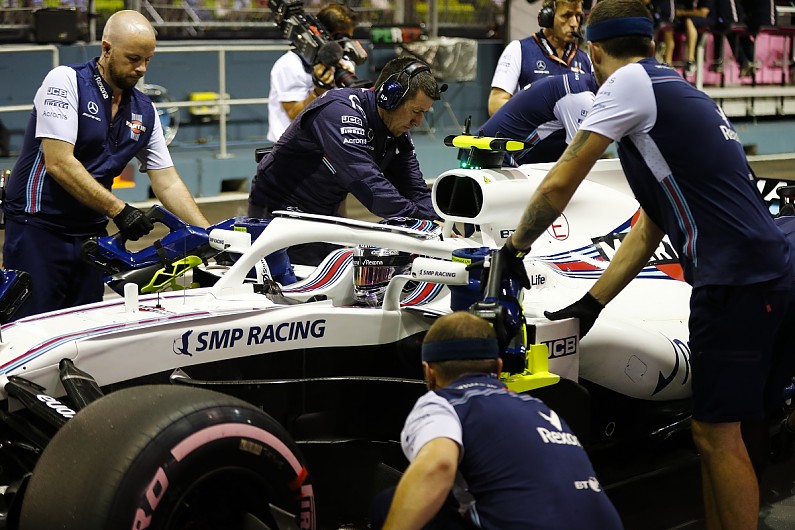 Stroll, who ended up at the back of the grid, said it was impossible to go any quicker with the problems the Williams machine has.
"It is just undriveable," he said. "It is very little grip, and kerb riding is very poor and traction is very poor.
"All the things that you need around this kind of track to go quick.
"Unfortunately we haven't been able to get the car hooked up in those areas. So that has been the problem."
The Williams car has been unpredictable in previous weekends, having suffered with an aerodynamic stall earlier in the season.
But Stroll says that it was not a factor in qualifying for the Singapore GP.
"To a certain extent I can predict what the car is going to do, the problem is that I just cannot go quicker because we are limited on entry stability, and traction.
"You just wheel spin, then mid-corner understeer, oversteer, so you are fighting multiple areas of the corner which then limits the car to actually just go quicker.
"The more I try to push it and get more lap time out of it, the more slip and the more surface temperature is generated on the tyre which then affects the overall grip. So we are limited in that area."