Bradley Smith admits stepping up from a satellite team to the factory KTM MotoGP outfit in 2017 was far "more demanding physically and mentally" than he ever anticipated.
After four years with the customer Tech3 Yamaha team, Smith moved to spearhead KTM's full factory debut in the premier class for this season.
Smith struggled for much of the year relative to team-mate Pol Espargaro, and his position in the team came under threat despite his two-year contract with the Austrian marque.
He was eventually retained for 2018 in October, and finished the season 21st overall with 29 points – some 26 short of Espargaro's total.
Smith conceded the "extra strain" of riding for a developing manufacturer compared to a satellite team took its toll, but said he had enjoyed the season overall.
"For the first time ever I'm actually looking forward to a holiday post-season, you feel you've needed it," Smith said.
"Whether it's the extra tests that we do, the extra strain from being a development team, or at least in a development process as a manufacturer.
"Certainly, it's been a lot more demanding mentally, physically than I imagined.
"I would say it certainly has been great fun. I've learnt an awful lot, I've enjoyed the process phenomenally.
"It's been an eye-opener in many ways, but you start to understand when you are on a satellite bike you have things, in many ways, a lot easier than you realise.
"You'll never have the best, but you have an amazing package with none of the stuff that comes with it."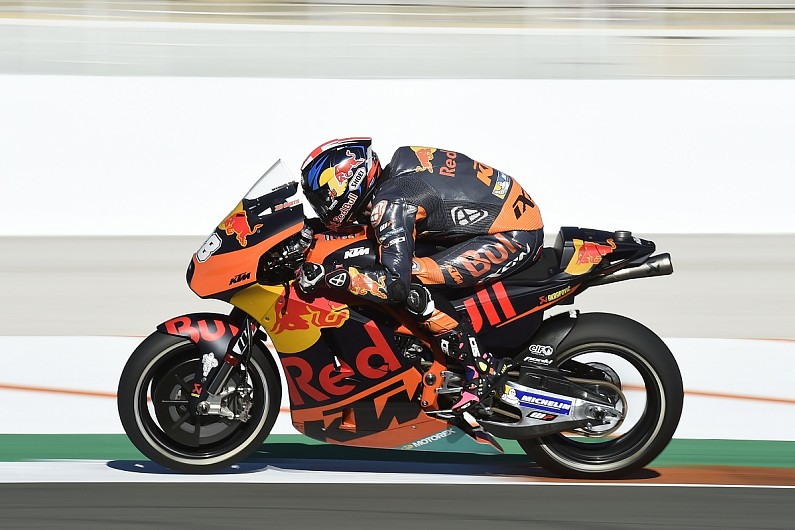 Smith said trying to juggle development work and race weekend focus was one of the biggest challenges he faced in 2017.
"[The biggest change was] the difference between testing and racing and finding that balance – mentally to distinguish between are we developing the bike every time we ride or are we trying to race the bike," he said.
"I think that was something I wasn't doing a very good job of.
"I was thinking more big picture rather than short term, but both were being affected.
"Sometimes it's actually better the rider concentrates short-term and the team focus more on long-term. That's their job as such, or at least the test rider's job as well.
"Distinguishing between those two for me is the biggest difference, and one of the hardest things to have done this year."