A lack of factory support for Johann Zarco prompted Tech3's decision to part with Yamaha at the end of the 2018 MotoGP season, says team principal Herve Poncharal.
Tech3 announced before the final pre-season MotoGP test that it was ending its 18-year relationship with Yamaha and had a new manufacturer partner for next year.
Zarco impressed in his MotoGP rookie season in 2017 with two podium finishes and sixth in the championship, which left Poncharal hoping he would be given factory Yamaha equipment this year – in a similar manner to Honda's relationship with LCR rider Cal Crutchlow and Ducati's support of Pramac's Danilo Petrucci.
But Zarco was not given the latest-spec YZR-M1 for 2018 and started testing with last year's troubled bike before eventually reverting to the 2016 version, with which he went fastest in the final pre-season test on Saturday.
"End of last year, the last two grands prix, Johann was twice in a row on the podium, wet podium in Malaysia, dry podium in Valencia, almost a win in Valencia," said Poncharal.
"Everybody was expecting maybe something a bit special coming from Yamaha to support Johann like HRC are doing with Cal or Ducati is doing with Danilo Petrucci.
"It didn't come, although we proved it in Doha that the support and the bike we have from Yamaha is an incredible support and good enough anyway to be on top of the timesheets.
"But anyway there were many things that as a satellite operation you always want a bit more of, you always want to be a bit closer to the factory guys.
"Sure the new technical rules helped all the satellite operations to be closer to the top but you always want to have that last bit.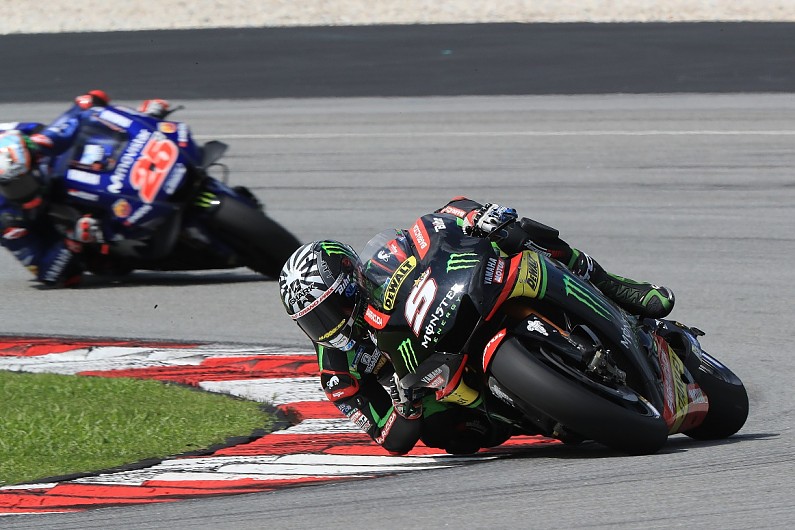 "Also I think at one stage of your career, your life, you don't want to feel a bit too much of a comfort zone.
"We had an incredible comfort zone with Yamaha – we are happy, everything was clear, we knew almost everybody inside the company but sometimes it is good to have a fresh challenge.
"I don't want to say we were asleep but something wakes you up and makes you feel 10 years younger."
Tech3's new deal is for three years and guarantees factory support for both its bikes, Poncharal confirmed.
Poncharal confirmed that Tech3 has signed a three-year deal with its new manufacturer and that both of the team's bikes will get full factory support.
He dropped a strong hint that the new deal is with KTM, saying Tech3 would act as a junior team for a new partner that is also in Moto3 and Moto2.
"We always tried to be the official Yamaha junior team but it was never really the case," he said. "That will be the case where we'll be going.
"That manufacturer is involved in Moto3, Moto2 and MotoGP so there will be a clear path for having young riders from the first day they join the MotoGP championship."