Two-time MotoGP champion Casey Stoner says factory Yamaha riders Valentino Rossi and Maverick Vinales have to shoulder some blame for the manufacturer's struggles in 2017.
Vinales began the 2017 season with three wins from the first five races and led the standings by as much as 26 points, but he faded as the campaign went on – which included Yamaha introducing a new chassis that Vinales felt did not suit his riding style.
The Spaniard and team-mate Rossi both complained of rear grip problems, particularly towards the end of the campaign, and Rossi said late last year that Yamaha's 2018 bike would be based on its '16 challenger after comparing it to the '17-spec M1.
Stoner said Yamaha's struggles were tricky to unpick, but the issues Vinales and Rossi experienced last year went beyond simply changes to the bike.
"It's very difficult to understand," Stoner told Autosport, when asked to assess Yamaha's patchy 2017 form. "Coming from the outside, it's impossible to say.
"Maverick started with a lot of confidence at the beginning of the year after being comfortable in the pre-season.
"But it's very easy to lose that confidence and your direction when you have a couple of crashes.
"He is still young and he still doesn't have a lot of experience in MotoGP.
"They can make excuses for the bike, but I think it wasn't so different throughout the season and when the Tech3 riders used the same frame, they didn't find the same problems.
"In my opinion, yes [the struggles were to do with the riders].
"There are always pros and cons to everything, but to go from being impressively competitive and the best, and then struggle to finish in the top 10… It is a little more than just the package, for me."
No plans to stop 'proud' Ducati role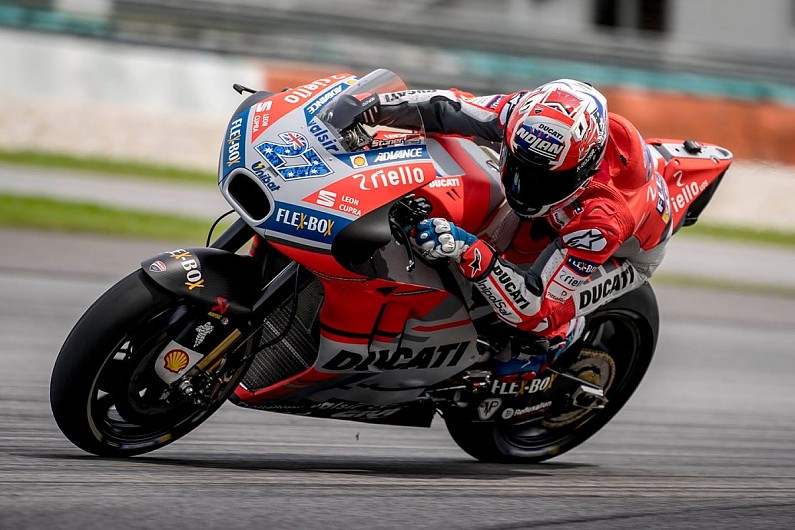 Stoner, who retired from racing in MotoGP in 2012, said he was comfortable with his current position as a Ducati test rider and has no plans to stop fulfilling that role while he still enjoys riding.
"I will keep doing this until the bikes become no fun to ride, which I can see in the future will be like this," said the 32-year-old.
"But as long as I can still enjoy riding, I enjoy the different aspect of working a little bit closer to the engineers.
"I am always pushing and fighting, because for me, when I'm in this position, Jorge and Dovi are my riders so I have to do everything to help them be more competitive.
"The more success they have, the prouder I feel because I've helped them achieve that.
"When I was racing, I always appreciated the test rider we had and I know how hard they had to work."